Nimzo-Indian
The Nimzo-Indian Defence is a chess opening characterised by the moves (in algebraic notation) 1.d4 Nf6 2.c4 e6 3.Nc3 Bb4 (other move orders, such as 1.c4 e6 2.Nc3 Nf6 3.d4 Bb4 are also feasible). In the
Encyclopedia of Chess Openings scheme
, the Nimzo-Indian is classified as E20-E59.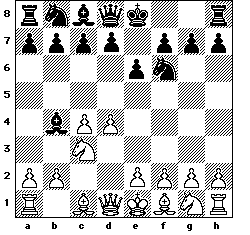 This hypermodern opening was developed by Grandmaster
Aron Nimzowitsch
who introduced it to master-level chess in the early 20th century. Unlike most Indian openings the Nimzo-Indian does not involve an immediate
fianchetto
, although Black often follows up with ...b6 and ...Bb7. By pinning White's knight Black prevents the threatened 4.e4 and seeks to inflict doubled pawns on White. White will attempt to create a pawn centre and develop his pieces to prepare for an assault on the Black position.