the Giuoco Piano or Quiet Game.



The Giuoco Piano means quiet game. But in the hands of a strong player, it is not a quiet game. Here is one of the most famous Giuoco Piano games of all time. It was played by world champion
William Stienitz
at the great Hastings 1895 international tournament. The game won the brilliancy prize. The final move was such a brutal blow to
Curt von Bardeleben
, that when he saw the move, he got up and walked out of the tournament hall and let the clock run out (poor sportsmanship). He even wanted to withdraw from the tournament, but was talked into staying in the event by the organizers. Meanwhile, Steinitz announced mate in 10 and was showing everyone the forced moves while von Bardeleben walked out.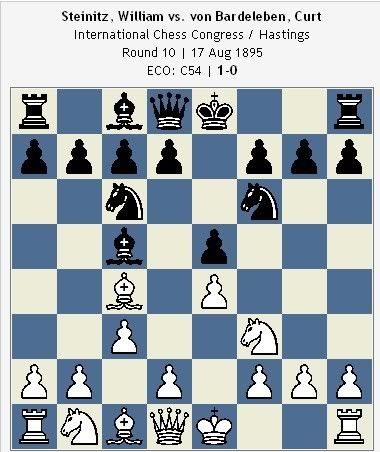 [Event "International Chess Congress"]
[Site "Hastings"]
[Date "1895.08.17"]
[Round "10"]
[White "Steinitz, William"]
[Black "von Bardeleben, Curt"]
[Result "1-0"]
[ECO "C54"]
[PlyCount "49"]
[EventDate "2007.06.23"]
[SourceDate "2007.06.23"]

1. e4 e5 2. Nf3 Nc6 3. Bc4 Bc5 { the Giuoco Piano or Quiet Game. } 4. c3 Nf6 5. d4 exd4 6. cxd4 Bb4+ 7. Nc3 d5 ( 7... Nxe4 8. O-O Nxc3 9. bxc3 Bxc3 10. Bxf7+ Kxf7 11. Qb3+ Ke8 12. Qxc3 Qf6 13. Re1+ Kd8 14. Bg5 { 1-0, Wall-Barsalou, Dayton 1988 } ) 8. exd5 Nxd5 9. O-O Be6 10. Bg5 Be7 11. Bxd5 Bxd5 12. Nxd5 Qxd5 13. Bxe7 Nxe7 14. Re1 f6 15. Qe2 Qd7 16. Rac1 c6 17. d5 cxd5 18. Nd4 Kf7 19. Ne6 Rhc8 ( 19... Rac8 20. Qg4 g6 21. Ng5+ Ke8 22. Rxc8+ ) ( 19... Nc6 20. Nc5 Qc8 ( 20... Qf5 21. Nxb7 ) 21. Qh5+ ) 20. Qg4 g6 ( 20... Ke8 21. Nxg7+ Kd8 22. Ne6+ Ke8 23. Qh5+ Ng6 24. Nc5+ ) 21. Ng5+ Ke8 ( 21... fxg5 22. Qxd7 ) 22. Rxe7+ $1 Kf8 ( 22... Qxe7 23. Rxc8+ Rxc8 24. Qxc8+ Qd8 25. Qxd8+ Kxd8 26. Nxh7 ) ( 22... Kxe7 23. Qb4+ ( 23. Re1+ Kd6 24. Qb4+ Kc7 25. Ne6+ Kb8 26. Qf4+ ) Ke8 24. Re1+ Kd8 25. Ne6+ ) 23. Rf7+ $1 ( 23. Rxc8+ Rxc8 24. Rf7+ Kg8 25. Rg7+ Kh8 26. Rxh7+ Kg8 27. Rg7+ Kh8 28. Rh7+ ( 28. Qh4+ $2 Kxg7 29. Qh7+ Kf8 30. Qh8+ Ke7 31. Qg7+ Kd8 32. Qf8+ Kc7 ) Kg8 29. Rg7+ Kh8 ) Kg8 ( 23... Ke8 24. Qxd7# ) 24. Rg7+ $1 Kh8 ( 24... Kf8 25. Nxh7+ Kxg7 26. Qxd7+ ) ( 24... Qxg7 25. Rxc8+ Rxc8 26. Qxc8+ Qf8 27. Qe6+ Kh8 28. Nf3 ) 25. Rxh7+ $1 {

Here von Bardeleben walked out of the tournament hall and lost on time rather than seeing the forced mate in 10 that Steinitz announced.

} ( 25. Rxh7+ Kg8 26. Rg7+ Kh8 ( 26... Kf8 27. Nh7+ Kxg7 28. Qxd7+ ) 27. Qh4+ Kxg7 28. Qh7+ Kf8 29. Qh8+ Ke7 30. Qg7+ Ke8 31. Qg8+ Ke7 32. Qf7+ Kd8 33. Qf8+ Qe8 34. Nf7+ Kd7 35. Qd6# )
1-0